news - 12 August 2014
Contacts for additional information:

Eyeheight: Martin Moore, Sales Director
Tel: +44 (0)2082 552 015
Email: martin@eyeheight.com

Newsmedia: David Kirk, Stylus Media Consultants
Tel: +44 (0)1342 311 983
Email: stylusmedia@gmail.com


Eyeheight announces BroadcastSafeFCPX plug-in legalizer for Apple Final Cut Pro X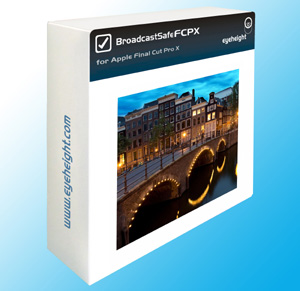 London, UK, 12 August, 2014: Eyeheight announces a new addition to its range of conformance plug-ins for use in video post-production. Scheduled for introduction at IBC2014 in September, the new BroadcastSafeFCPX is a plug-in video legalizer which works seamlessly with Apple's Final Cut Pro X editing software.
BroadcastSafeFCPX enables editors to verify and conform content prior to submission to any file-based quality control system. It can be used to perform composite, RGB, RGB-plus-Y and simultaneous composite-plus-RGB legalizing, all with operator-adjustable soft clipping at high and low thresholds.
Precise chroma-space conversion and accurate limiting ensure compliance while keeping the full gamut available for creative use.
Editors can select from an extensive range of presets, or work in custom mode which gives full access to 15 configurable parameters. Facility administrators can assign which built-in presets are available to users, create new presets or disable the custom option to ensure that only approved configurations are implemented.
BroadcastSafeFCPX will be introduced at IBC2014, Amsterdam , September 12-16. Exhibiting on stand 8.B97, Eyeheight will be represented by Martin Moore, Steve Crocker and Linda Underwood
Eyeheight (www.eyeheight.com) produces broadcast-standard technical compliance plug-ins for use with popular video editing software, including Avid, Adobe and Apple systems. Eyeheight also designs and manufactures 3G, 3D and HD-SDI equipment for video and audio content origination, quality-assurance, post-production, playout and associated areas. This includes audio descriptors, audio loudness conformers, color correctors, emergency switchers, mixers and keyers, safe area generators, subtitling decoders, text and graphics generators, timecode processors, video legalisers and widescreen signal generators. Eyeheight products are available worldwide
.