news - 19 May 2015
Contacts for additional information:

Eyeheight: Martin Moore, Sales Director
Tel: +44 (0)2082 552 015
Email: martin@eyeheight.com

Newsmedia: David Kirk, Stylus Media Consultants
Tel: +44 (0)1342 311 983
Email: stylusmedia@gmail.com


Eyeheight LE-2M legaliser secures the field in French Open Tennis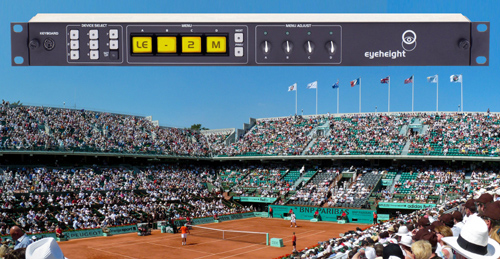 Paris, France, 19 May 2015: Eyeheight's video legalising technology takes centre stage in Paris for the annual French Open tennis tournament. Held at Stade Roland Garros stadium, the event is the world's premier clay court tennis championship. This year's contest will be transmitted to audiences worldwide from Sunday May 24 through to the finals on Sunday June 7.
"Summer sports can be quite challenging for outside-broadcast camera crews, given the wide variation in light levels and the ever-present potential for bright reflections bouncing in from the public enclosure," comments Eyeheight Sales Director Martin Moore. "The LE-2M chosen for this event will ensure that video content captured throughout the series conforms fully to internationally agreed signal levels."
Eyeheight compliance products and keyers are relied upon by many of the world's leading broadcasters and post-production facilities. In addition to their use in permanent studio installations they have been deployed for many sports-related productions, including the BBC Sports Personality of the Year, the 2014 Brazil world football championship, the Grand National, the London Marathon and the Wimbledon Lawn Tennis Championships.
The Eyeheight LE-2M auto-detects incoming SDI or HD-SDI video at 1080i/50/59.94, 720p/50/59.84, 625/50 or 525/59.94 and applies the appropriate legalising format. It then ensures that incoming signal video is held within user-selected colour-space parameters: RGB; YUV; composite (PAL or NTSC); or RGB-and-composite combined. Legalisation can be performed to conform with EBU-R 2003 standard SDI settings and 7.5 IRE or 0 IRE Pedestal. Six user memories and common presets are provided.
Additional features of the LE-2M legaliser include Eyeheight's unique clobberRing automatic luma overshoot and undershoot suppression together with luma and chroma gain, black level adjustment, hue rotation, adjustable clipping levels and soft-clipping-knee levels. An 'out-of-gamut' indication feed displays overshoot or undershoot severity and shows the user where on the picture any signal correction is being performed.
In the audio domain, the Eyeheight LE-2M-K variant provides automatic real-time control of perceptual loudness and true peak level using ITU-R BS.1770 multi-channel loudness and true-peak estimation algorithms. These are coupled with proprietary correction algorithms to ensure compliance with loudness and peak-programme level requirements. Embedded stereo or surround audio loudness are continuously monitored, system gain being seamlessly adjusted across all channels to maintain the loudness limit while preserving the audio imaging. The processor also performs 8x over-sampling true-peak estimation and instantaneous correction on all stereo or surround channels, ensuring that peak-programme level limits are adhered to.
Up to six LE-2M or LE-2MK legalisers can be housed in a 1U Eyeheight FB-9E smart chassis with an integral web server and optional FP-9 front control panel.
The French Open (www.rolandgarros.com) is the second of four annual Grand Slam tournaments, the other three being the Australian Open, Wimbledon and the US Open. Roland Garros is the only Grand Slam event held on clay and ends the spring clay court season. Because of the slow-playing surface and the five-set men's singles matches without a tiebreak in the final set, the event is widely considered to be the most physically demanding tennis tournament in the world. The 2014 tournament was won by Rafael Nadal, the four-time defending champion in the men's singles. He defeated Novak Djokovic in the men's singles final to win his 9th French Open title and his 14th Grand Slam title. The victory made Nadal the first tennis player to have won five consecutive French Open titles, in addition of becoming the only man with at least one Grand Slam title in 10 consecutive years.
Eyeheight (www.eyeheight.com) produces broadcast-standard technical compliance plug-ins for use with popular video editing software, including Adobe, Apple and Avid systems. Eyeheight also designs and manufactures rack-mountable 3G, 3D and HD-SDI processors for video and audio content origination, quality-assurance, post-production, playout and associated areas. This includes audio descriptors, audio loudness conformers, color correctors, emergency switchers, mixers and keyers, safe area generators, subtitling decoders, text and graphics generators, timecode equipment, video legalisers and widescreen signal generators. Eyeheight products are available worldwide.