news - 21 July 2015
Contacts for additional information:

Eyeheight: Martin Moore, Sales Director
Tel: +44 (0)2082 552 015
Email: martin@eyeheight.com

Newsmedia: David Kirk, Stylus Media Consultants
Tel: +44 (0)1342 311 983
Email: stylusmedia@gmail.com

See Eyeheight on stand 8.B97 at IBC 2015, Amsterdam , September 11-15

Eyeheight announces free test-drive of its broadcast compliance plug-ins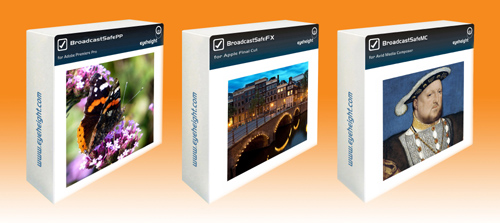 London, UK, July 21, 2015 : Eyeheight announces a major promotion of its BroadcastSafe compliance software for Adobe Premiere Pro, Apple Final Cut and Avid Media Composer. Full-function versions of all three are now downloadable from the Eyeheight website for free-of-charge evaluation.
"BroadcastSafe has proved a very successful product," comments Eyeheight Sales Director Martin Moore. "Much of that success derives from recommendations by established broadcasters, post-production houses and independent editors. These downloads will remain fully functional until September 2015. Permanently licensed versions can then be purchase at a very cost effective price up to the end of that month. We are confident that users of the industry's leading editing workstation software around the globe will appreciate the ability to test-drive BroadcastSafe without the restrictions usually imposed on demonstration software. The complete toolset is fully active and allows files to be saved for actual use."
BroadcastSafe is a complete plug-in legaliser, safe-area generator and graphic measurement toolset. It allows users to verify and conform content prior to submission to any file-based quality control system. BroadcastSafe can perform composite, RGB, RGB-plus-Y and simultaneous composite-plus-RGB legalising, all with user-adjustable soft clipping at high and low thresholds. Precise chroma-space conversion and accurate limiting ensure compliance while keeping the full gamut available for creative use.
Editors can select from an extensive range of presets, or work in custom mode which gives full access to 15 configurable parameters. Facility administrators can assign which built-in presets are available to users, create new presets or disable the custom option to ensure that only approved configurations are implemented.
An integral Broadcast Evaluate display indicates which parts of a video image require adjustment in order to be fully broadcast compliant. Non-compliant areas of content are displayed in a user-definable colour with the option of manual or automatic correction, giving editors greater choice in the way they work.
BroadcastEvaluate supports all common compliance standards. Users can alternatively define their own compliance standard as an XML file.
Also integral to BroadcastSafe is BroadcastSafeArea. This allows a wide range of graticules to be superimposed over the video monitor display. BroadcastSafeArea supports a multitude of standards including SMPTE, EBU and DPP, in 525/625 standard definition, 720/1080 high definition and 2K line formats. Also included is a centre marker plus a measurement utility to ensure minimum text height conformance in commercials. Any marker colour can be assigned by the operator.
Easy to install and seamless to operate, BroadcastSafe is available in three versions: BroadcastSafePP for Adobe Premiere Pro on Microsoft Windows or Apple OS X operating systems; BroadcastSafeFX for Apple Final Cut (for Apple OS X); BroadcastSafeMC for Avid Media Composer (for Microsoft Windows or Apple OS X).
BroadcastSafe and other products in the Eyeheight range will be demonstrated on stand 8.B97 at IBC2015. Eyeheight representatives attending will include Martin Moore, Steve Crocker (Technical Director) and Linda Underwood.
Eyeheight (www.eyeheight.com) designs and manufactures 3G, 3D and HD-SDI equipment for video and audio content origination, quality-assurance, post-production, playout and associated areas. This includes audio descriptors, audio loudness conformers, colour correctors, emergency switchers, mixers and keyers, safe-area generators, subtitling decoders, text and graphics generators, timecode processors, video legalisers and widescreen signal generators. Eyeheight also produces broadcast-standard technical compliance plug-ins for use with popular video editing software, including Adobe, Apple and Avid systems. Eyeheight products are available worldwide.