news - 23 July 2015
Contacts for additional information:

Eyeheight: Martin Moore, Sales Director
Tel: +44 (0)2082 552 015
Email: martin@eyeheight.com

Newsmedia: David Kirk, Stylus Media Consultants
Tel: +44 (0)1342 311 983
Email: stylusmedia@gmail.com

See Eyeheight on stand 8.B97 at IBC 2015, Amsterdam , September 11-15

Eyeheight legalises broadcast coverage of Royal Welsh Show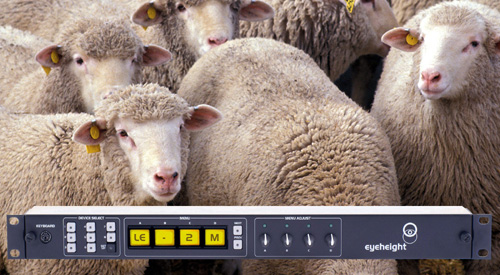 Llanelwedd, Wales, UK, July 23, 2015: On the heals of its recent success in outside broadcasting from the French Open Tennis tournament, Eyeheight legalising technology was chosen for use during OB coverage of the 2015 Royal Welsh Show. The event was held over four days, July 20 through July 23, at its usual venue in Llanelwedd, Mid Wales. Activities televised included sheepdog trials, sheep shearing, livestock judging, horse riding competitions, carriage driving displays and falconry.
"The solution deployed at this event was the LE-2M in a 1U Flexi-Box chassis with a Flexi-Panel to allow local control," says Eyeheight Sales Director Martin Moore. "The LE-2M provides real-time conformance of video coming straight from cameras placed at various locations. Operating conditions during live events of this kind can be very unpredictable, particularly in mid summer when cameras have to cope with extremely bright lighting levels as well as very dark shadows. The LE-2M can be positioned anywhere in the signal path, either to safeguard the output from a single camera or downstream of the production switcher. Correction is applied only if the signal feed goes above or below permitted thresholds. These can be industry-standard maximum and minimum levels or user-assigned settings."
The Eyeheight LE-2M auto-detects incoming SDI or HD-SDI video at 1080i/50/59.94, 720p/50/59.84, 625/50 or 525/59.94 and applies the appropriate legalising format. It then ensures that incoming signal video is held within user-selected colour-space parameters: RGB; YUV; composite (PAL or NTSC); or RGB-and-composite combined. Legalisation can be performed to conform with EBU-R 2003 standard SDI settings and 7.5 IRE or 0 IRE Pedestal. Six user memories and common presets are provided.
Additional features of the LE-2M legaliser include Eyeheight's unique clobberRing automatic luma overshoot and undershoot suppression together with luma and chroma gain, black level adjustment, hue rotation, adjustable clipping levels and soft-clipping-knee levels. An 'out-of-gamut' indication feed displays overshoot or undershoot severity and shows the user where on the picture any signal correction is being performed.
Up to six LE-2M or LE-2MK legalisers can be housed in a 1U Eyeheight FB-9E smart chassis with an integral web server and optional FP-9 front control panel.
The Royal Welsh Agricultural Society (www.rwas.wales) was formed in 1904. Its first show was held in Aberystwyth in the same year and has become an important event in the Welsh calendar. Now the biggest agricultural show in Europe, the Royal Welsh Show attracts some 240,000 visitors over the course of its four days and is supported by approximately 18,000 society members. This success has allowed extensive development of the permanent showground at Llanelwedd. First used in 1963, the venue is set in the heart of the Powys countryside.
Eyeheight (www.eyeheight.com) designs and manufactures 3G, 3D and HD-SDI equipment for video and audio content origination, quality-assurance, post-production, playout and associated areas. This includes audio descriptors, audio loudness conformers, colour correctors, emergency switchers, mixers and keyers, safe-area generators, subtitling decoders, text and graphics generators, timecode processors, video legalisers and widescreen signal generators. Eyeheight also produces broadcast-standard technical compliance plug-ins for use with popular video editing software, including Adobe, Apple and Avid systems. Eyeheight products are available worldwide.