news - 27 July 2015
Contacts for additional information:

Eyeheight: Martin Moore, Sales Director
Tel: +44 (0)2082 552 015
Email: martin@eyeheight.com

Newsmedia: David Kirk, Stylus Media Consultants
Tel: +44 (0)1342 311 983
Email: stylusmedia@gmail.com

See Eyeheight on stand 8.B97 at IBC 2015, Amsterdam , September 11-15

Eyeheight announces BroadcastSafeAudio loudness measurement plug-in for professional audio workstations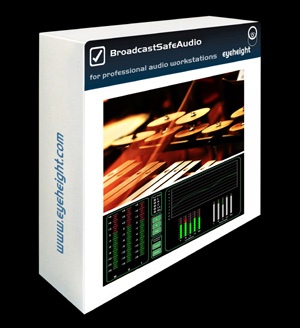 London, UK, July 27, 2015: Eyeheight announces a new addition to its broad range of compliance products with the introduction of a VST-3 plug-in for loudness measurement on professional audio workstations.
The new BroadcastSafeAudio provides automatic real-time measurement of perceptual loudness and true peak level using ITU-R BS.1770 multi-channel loudness and true-peak estimation algorithms. These are coupled with the ability to correct the level to the target loudness. EBU mode is supported and logging provided.
Embedded stereo or surround audio loudness are continuously monitored and displayed graphically. System gain can be adjusted across all channels to maintain the target loudness while preserving the audio imaging. BroadcastSafeAudio also performs 8 x over-sampling true-peak estimation and instantaneous correction on all stereo or surround channels, ensuring adherence to all peak-programme level limits.
BroadcastSafeAudio is based on the Steinberg Virtual Studio Technology (VST) software interface and therefore compatible with very wide range of IT-based audio recording and editing systems. It provides the audio compliance features developed for Eyeheight's highly successful KARMAudioAU which is designed for use with Apple Final Cut 7.
BroadcastSafeAudio is ideal for professionals involved in any aspect of audio production or post production where the end product is likely to be transmitted over a television channel.
BroadcastSafeAudio and other products in the Eyeheight range will be demonstrated on stand 8.B97 at IBC2015. Eyeheight representatives attending will include Martin Moore and Linda Underwood.
Eyeheight (www.eyeheight.com) produces broadcast-standard technical compliance plug-ins for use with popular video editing software, including Adobe, Apple and Avid systems. Eyeheight also designs and manufactures rack-mountable 3G, 3D and HD-SDI processors for video and audio content origination, quality-assurance, post-production, playout and associated areas. This includes audio descriptors, audio loudness conformers, colour correctors, emergency switchers, mixers and keyers, safe area generators, subtitling decoders, text and graphics generators, timecode equipment, video legalisers and widescreen signal generators. Eyeheight products are available worldwide.