news - 2 December 2014
Contacts for additional information:

Eyeheight: Martin Moore, Sales Director
Tel: +44 (0)2082 552 015
Email: martin@eyeheight.com

Newsmedia: David Kirk, Stylus Media Consultants
Tel: +44 (0)1342 311 983
Email: stylusmedia@gmail.com


Eyeheight maintains momentum in broadcast conformance innovation
London , England , December 2, 2014 : Eyeheight reports that 2014 was one of its most innovative and successful years since the company was formed in 1992 by BBC-trained engineers Steve Crocker and Martin Moore, both of whom were then working as chief engineers in the broadcast post-production industry.
Notable highlights included the use of Eyeheight CC-2M colour correctors for coverage the 60th BBC Sports Personality of the Year awards ceremony which was transmitted on December 15 from the First Direct Arena in Leeds.Eyeheight's CC-2M technology was also chosen for the fourth annual Stargazing Live series transmitted on BBC Two between January 7 and 9. The series was produced from Jodrell Bank and featured live links from observatories in Hawaii, South Africa and the USA.
Also in January, Eyeheight LE-2M legalisers were used during the German series Ich bin ein Star...Holt Mich Hier Raus!, transmitted by RTL.
Eyeheight compliance legalisers were deployed during broadcast television coverage of the 2014 world football championship, hosted by Brazil . A total of 12 LE-2M channels housed in two 1U-high chassis were on site for this year's tournament which commenced with a match between Brazil and Croatia on June 12.
From late June to early July, Eyeheight DK-2 multi-rate linear downstream keyer delivered the excitement of the 2014 Wimbledon Lawn Tennis Championships to television viewers around the world. The keyer was chosen by one of Britain 's largest outside-broadcast service providers.
Eyeheight colour correctors and legalisers returned to Australia for the latest series of the television show I'm a Celebrity - Get Me Out of Here! The programme's 14th UK series commenced on November 16, produced in 1920 x 1080 high-definition from a production site at Murwillumbah on the edge of a sub-tropical rain forest.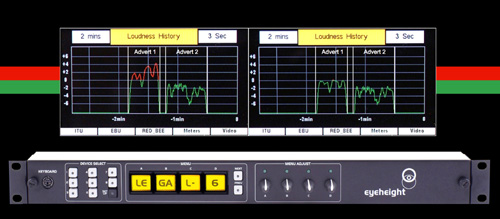 Eyeheight chose the 2014 NAB Show in Las Vegas as the launch platform for the latest version of its LEGAL-6 legaliser. This incorporates extended audio capabilities including eight loudness level control channels configured as four AES stereo pairs.
Eyeheight sales director Martin Moore headed to the Creative Pro User Group's 13th Annual Las Vegas SuperMeet, held at the Riviera Hotel during the April 2014 NAB Show. Eyeheight promoted its plug-in broadcast legalisers for Adobe Premier Pro, Apple Final Cut X, Apple Final Cut 7 and Avid Media Composer 7, plus ITU 1770-X audio leveling software for Apple Final Cut 7.
In the run-up to IBC, Eyeheight announced a major expansion to the capabilities of its BroadcastSafe compliance plug-ins for Avid's Media Composer and Adobe's Premiere Pro post-production software.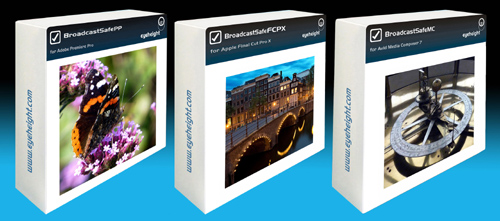 Version 1.5 BroadcastSafeMC (for Media Composer) and BroadcastSafePP (for Premiere Pro) both incorporate a new Broadcast Evaluate display indicating which parts of a video image require adjustment in order to be fully broadcast compliant. Non-compliant areas of content are displayed in a user-definable colour with the option of manual or automatic correction, giving editors greater choice in the way they work. Previously, this was an auto-only function. BroadcastEvaluate supports all common compliance standards. Users can alternatively define their own compliance standard as an XML file.
Also new for BroadcastSafeMC and BroadcastSafePP, BroadcastSafeArea allows a wide range of safe-area markers to be superimposed over the video monitor display. BroadcastSafeArea supports a multitude of standards including SMPTE, EBU and DPP, in 525/625 standard definition, 720/1080 high definition and 2K line formats. Also included is a centre marker plus a measurement utility to ensure minimum text height conformance in commercials. Any marker colour can be assigned by the operator.
Introduced at IBC itself, BroadcastSafeFCPX is a plug-in video legaliser which works seamlessly with Apple's Final Cut Pro X editing software.
The UK 's October 1 File Delivery Day was high on the agenda of many IBC visitors. Eyeheight's BroadcastSafe audio and video legalisation plug-ins allow editors to ensure their files meet the relevant national compliance standards before being wired back to the client or straight to the broadcaster.
The faster-than-realtime conformance capability offered in BroadcastSafeFCPX gives Apple Final Cut Pro X users a great speed advantage over their competitors. Media files can now be processed on a modern high-specification Apple desktop computer faster than it takes to view rather than typically four times longer than real-time on a lower-spec machine. Faster processing means faster delivery of completed content and higher operational efficiency throughout the business chain.
Eyeheight (www.eyeheight.com) produces broadcast-standard technical compliance plug-ins for use with popular video editing software, including Avid, Adobe and Apple systems. Eyeheight also designs and manufactures 3G, 3D and HD-SDI equipment for video and audio content origination, quality-assurance, post-production, playout and associated areas. This includes audio descriptors, audio loudness conformers, color correctors, emergency switchers, mixers and keyers, safe area generators, subtitling decoders, text and graphics generators, timecode processors, video legalisers and widescreen signal generators. Eyeheight products are available worldwide
.