news - 30 September 2014
Contacts for additional information:

Eyeheight: Martin Moore, Sales Director
Tel: +44 (0)2082 552 015
Email: martin@eyeheight.com

Newsmedia: David Kirk, Stylus Media Consultants
Tel: +44 (0)1342 311 983
Email: stylusmedia@gmail.com


Eyeheight experiences outstanding IBC2014 in run-up to October 1 File Delivery Day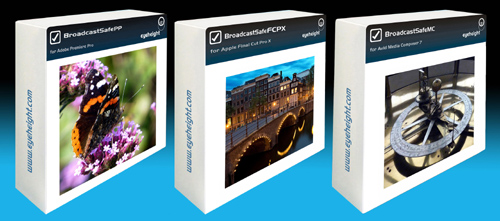 London , UK , 30 September 2014 : Eyeheight reports an outstandingly successful International Broadcasting Convention in Amsterdam , held during the immediate run-up to the UK 's 1 October 2014 File Delivery Day.
"FD-Day was high on the agenda of practically every UK visitor we talked to," comments Eyeheight Managing Director. "It will also affect overseas production companies creating programmes for UK-based broadcasters, and not before time given that the whole world is now moving away from couriered tape to IP-based content delivery. Our BroadcastSafe audio and video legalisation plug-ins allow editors to ensure their files meet the relevant national compliance standards before being wired back to the client or straight to the broadcaster.
"As we predicted, fast file turnround is becoming increasingly important thoughout the production and post-production business. The faster-than-realtime conformance capability offered in BroadcastSafeFCPX gives Apple Final Cut Pro X users a great speed advantage over their competitors. Media files can now be processed on a modern high-specification Apple desktop computer faster than it takes to view rather than typically four times longer than real-time on a lower-spec machine. Faster processing means faster delivery of completed content and higher operational efficiency throughout the business chain."
Also introduced at IBC were Version 1.5 BroadcastSafePP and BroadcastSafeMC compliance plug-ins, for Adobe Premiere Pro and Avid Media Composer respectively. Both incorporate a new Broadcast Evaluate display showing which parts of a video image need adjustment in order to be fully broadcast compliant. Non-compliant areas of content are displayed in a user-definable colour with the option of manual or automatic correction. This was previously an auto-only function. BroadcastEvaluate supports all common compliance standards. Users can alternatively define their own compliance standard as an XML file.
Also new for BroadcastSafePP and BroadcastSafeMC is BroadcastSafeArea which allows a wide range of safe-area markers to be superimposed over the video monitor display. BroadcastSafeArea supports a multitude of standards including SMPTE, EBU and DPP, in 525/625, 720/1080 and 2K. Also included is a centre marker plus a measurement utility to ensure minimum text height conformance in commercials. Any marker colour can be assigned by the operator.
Eyeheight (www.eyeheight.com) produces broadcast-standard technical compliance plug-ins for use with popular video editing software, including Avid, Adobe and Apple systems. Eyeheight also designs and manufactures 3G, 3D and HD-SDI equipment for video and audio content origination, quality-assurance, post-production, playout and associated areas. This includes audio descriptors, audio loudness conformers, color correctors, emergency switchers, mixers and keyers, safe area generators, subtitling decoders, text and graphics generators, timecode processors, video legalisers and widescreen signal generators. Eyeheight products are available worldwide
.